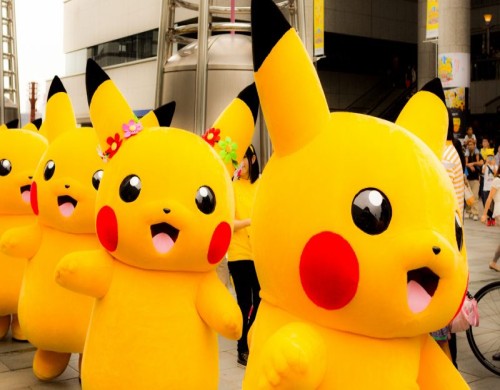 စုစည်းမှု့ - Trend
ပို့တင်သူ - Mr. Win Khant Kyaw
စတင်သည့်နေ့ - 29-06-2022
View - 150


အကြောင်းအရာ အကျဥ်း

Gotta catch Japan's cutest summer festival.
Yokohama Pikachu Outbreak
Summer in Japan is synonymous with hot weather, fireworks, and festivals. Yokohama City Council have found a way to combine the best of all three with everyone's favorite franchise: Pokémon.
'Pikachu Tairyou Hassei Chu!' or 'An Outbreak of Pikachus!' was first held in Yokohama's Minato Mirai district in 2014 to advertise a new Pokemon movie. As you can imagine, a festival involving hundreds of people dressed up and parading through the streets as a beloved national icon became absurdly popular and has now become an annual event.
In 2015, a bigger, brighter army of yellow Pikachus returned to Yokohama for the event, newly crowned: "Dancing? An Outbreak of Pikachus!" Legions of Pikachus banded together to dance at various performance venues around the city before culminating in the ridiculously adorable parade started the previous year. Fellow Pokémon Eevee was added into the mix into 2018, but Pikachu remains the star of the show.
Spot the Pikachu. The Yokohama Pikachu Outbreak takes place in and around the swanky Minato Mirai 21 district.
The 2019 event will take a page out of the Teamlab: Borderless book, combining projection mapping with LED-clad Pikachus illuminating the night sky! While previous outbreaks took place in the daytime, this year's festivities will be mainly at night, for an extra magical effect. For a full schedule of the Pika-rific events, check the Pikachu Outbreak official website.
Thus far, the Pikachu Outbreak has attracted a total of 3.43 million fans and generated about 800 million yen ($7.7 million) worth of media exposure.
Usually held in the second week of August, 'Pikachu Outbreak!' makes for a great getaway for any aspiring Pokemon Masters who have exhausted all their effort on Pokémon Go and are in serious need of some Poké-therapy. Pokégraphers should also keep their well-worn smartphones and attached battery packs at the ready for the mass of photo opportunities that come from a city overrun with sailor Pikachus, hip-hop Pikachus and Hawaiian hula-dancing Pikachus.
How does that phrase go? Only in Japan.
Things To Know
WHERE CAN I CATCH 'EM?
Venues for the event include the Grand Mall Park (in front of the Yokohama Museum of Art), Red Brick Warehouse and Rinko Park. Pokemon instagram photo spots with Poke-decoration decals will be scattered across Minato Mirai!
WHEN CAN I CATCH 'EM?
The 2019 Pikachu Outbreak is from Aug. 6 to 12. Pikachu and Eevee parades will occur nightly at 6:55 p.m., 7:50 p.m., and 8:45 p.m. The Pikachu parades will be at the Nippon Maru Memorial Park. For Eevee fans, the parade will be at the Queen's Mall in Yokohama Queen's Square.
How To Get There
ADDRESS
Unnamed Road, 1 Chome Sakuragichō, Yokohama-shi, Kanagawa-ken 231-0062, Japan
BY TRAIN
From major stations such as Ueno, Akihabara and Tokyo you can take either the JR Keihin Tohoku line, the Negishi line or the Tokaido line to Yokohama station. From Yokohama station, transfer to the Minatomirai line for Minatomirai Station or Sakuragicho Station.
---
Topics: August, festivals, manga and anime, Pokemon center Japan, summer, yokohama